Dreaming by the Mekong
(long version of piece for QX Magazine)
Gus Cairns discovers the remote and beautiful city of Luang Prabang in Laos
You can fly to Luang Prabang in one of Lao Aviation's ancient Chinese prop planes, but that's somehow cheating.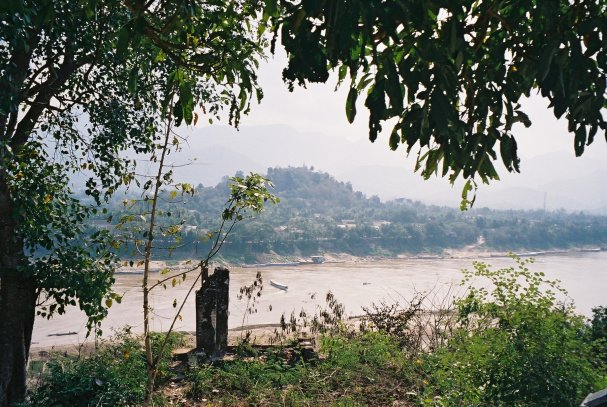 No, to appreciate the isolation of Laos's old royal capital, there are only two proper ways to get there.
One is to take two days idling down the Mekong River in a converted cargo boat from the Golden Triangle, the toppermost tip of Thailand.
The other, which we chose, is to take the bus from Vientiane, Laos's horizontally laid-back capital. This is a one-day journey – just.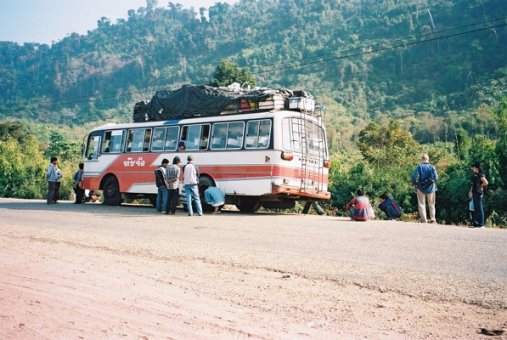 It's scheduled to take 10 hours but rarely takes less than 12, as breakdown is the rule rather than the exception for the ancient local charabancs. Improvised repairs (right) are undertaken by the cute, gun-toting security guards (the Luang Prabang road had a bandit problem till the late 90s and they still take no chances).
The bus shudders its way out of the rice-growing plain, past impos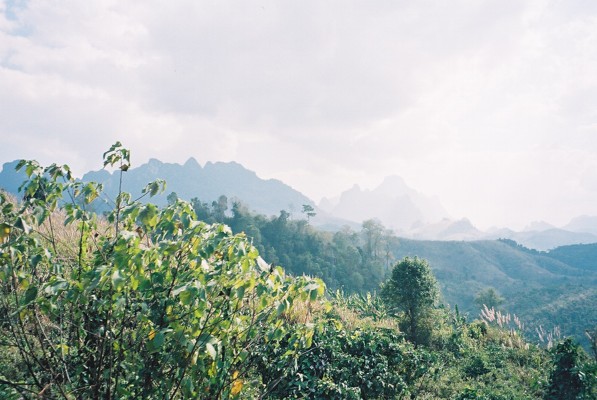 sible limestone pinnacles, up into mist-hung mountains (left), and finally down into…well, into 'The Best Preserved City in South-East Asia', a World Heritage site, a tiny (population 16,000) remote former capital of 33 Buddhist temples and old French colonial mansions snoozing by the broad Mekong river.
"Enchanted" and "tranquil" are the words the travel guides use to describe Luang Prabang, which gives you a clue that this is not a town for beach-party ravers. The restaurants shut at 10 and the bars at 12, and after that – so rumour has it – the Lao police sometimes fine tourists for being dirty stop-outs.
There's no point staying up late anyway. You get waken at 4am by the monks'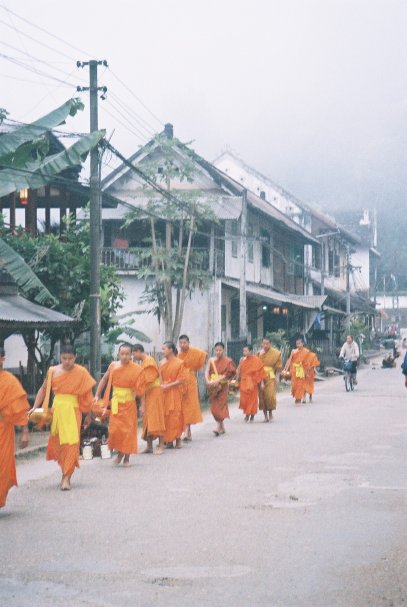 reveille – hefty thumps on the huge hanging drums each temple keeps in a dinky pavilion – and then an hour later by the many huge and magnificent town roosters (the Laos love cockfighting).
And you'd miss the 6.30am sight of the monks processing through the morning mist to collect alms from townspeople kneeling at the roadside.
So nightlife is not entirely what the place is about…but we soon discovered that there is more to Luang Prabang than meets the already-ravished eye.
For a start, the tourist population seemed to be understatedly, but extremely, gay. Everywhere you looked there were gay men, usually middle-aged, usually in couples.
Then, walking along a hushed street one night we saw a rainbow flag, heard a blast of The Weather Girls, and stumbled into the Khob Chai Bar, literally the Thank-you Bar, Luang Prabang's one and only outpost of gay liberation.
Here we found ourselves being entertained by the owners – a louche old Swede and his swishy Lao business partner – and buying Beerlao (the very drinkable local brew) for a tableful of young men of an affectionate and hopeful disposition.
A word about Laos here. When we got to Vientiane, an ex-pat in a bar told us: "Coming from Thailand to Laos is like coming from the UK to Romania."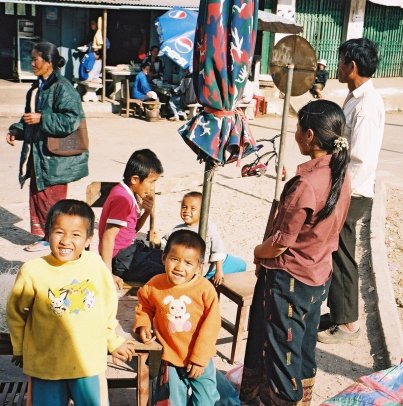 A small, poor country of six million perched on the back of its richer Thai neighbour, Laos has only just emerged from a tragic half-century of war (Laos, not Vietnam or Cambodia, is the most heavily-bombed country in the history of warfare) and the ensuing Stalinist socialism.
There are few cultural taboos about homosexuality and huge poverty – which means that's it's not that difficult to meet a local lad, but that a degree of 'help' is appreciated. I discovered 'help' was about $25.
On the other hand, overt prostitution is fiercely penalised, as the Lao government is determined to avoid their lovely country turning into a sex-tourism dump like parts of Thailand.
So it's illegal to have a Lao person of the opposite sex in your hotel room and have any kind of sex with a Lao national unless you're married to them. Should you get caught, the result may be a hefty fine for you and worse consequences for the local lad.
What this actually means is that if you meet a Lao local you're more likely to get invited back to his place, which will be an exercise in culture shock, as many Laos, even in towns, still wash in rivers and cook on open fires.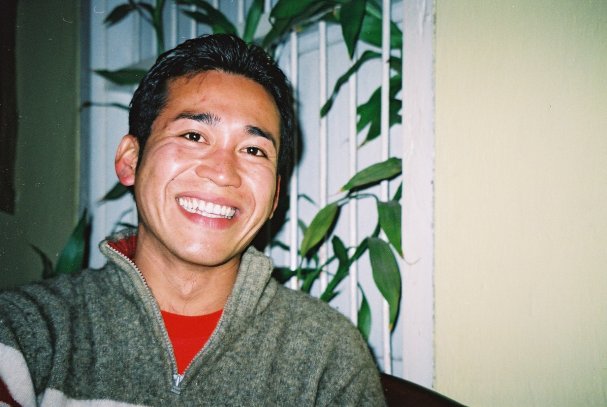 Anyway, the second night I went to Khob Chai I had much of this explained to me by the charming Chittakone 'Douk' Vannadeth (right), a local boy with bigger ambitions than the others who told me proudly he was the town's one and only gay travel guide.
He works for a gay travel company who have long recruited a roster of local gay guys to show timid 'farangs' (white men) round Thailand and are now expanding into less raucous destinations like Laos.
Douk showed me round in breaks betwee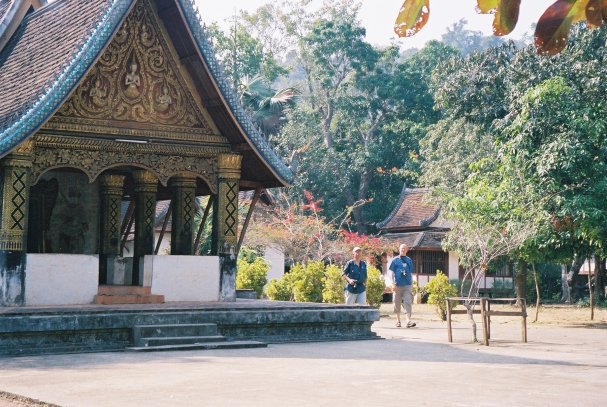 n his official guests, a German couple, and by the end I was more than a bit in love with him, his people, and his country.
For a start, the Laos are lovely. The gentle cadences of the Lao language make Thai sound harsh and quacky, and though Laos are not averse to the tourist dollar there's none of the hustle you get in other Asian countries.
And the whole place is so Goddamn stunning. There's those 33 living, working temples, each fantastically decorated in enough gold to gild a ship, and populated by hordes of orange-robed monks.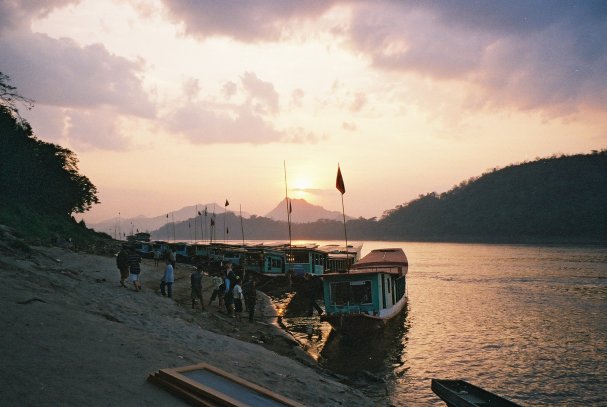 There's the climb up the town's central hill to see the sun set over the river – all the backpackers do that one – or – and this is the one they don't – across the Mekong by hired boat to the ruined hilltop temple of Wat Chom Phet, a location straight out of Crouching Tiger.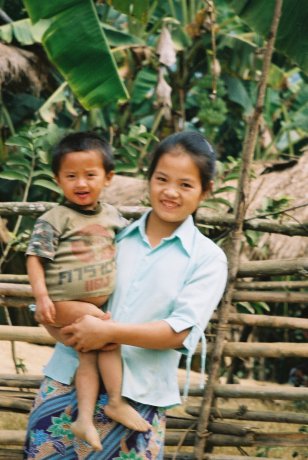 There's boat trips up the Mekong by slow boat to the cliffs and caves of Pak Ou, a repository for old, broken Buddha statues that stare out impassively over the river. Or, for those with nerves of steel, by screeching, thumping speedboat further up the Mekong tributaries to remote towns near the Chinese border.
There's a zillion trekking companies that will take you on one- to three-day hikes up into those folded hills to visit the dusty villages of Laos's numerous tribes like the Kamou and the Hmong, kip among their piglets and buy their stunning textiles.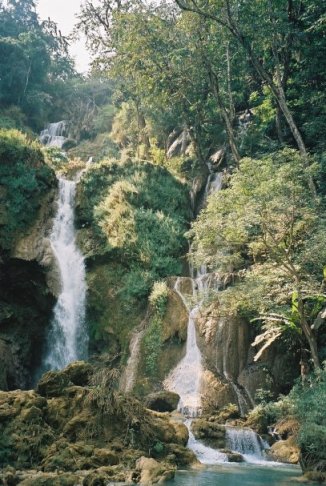 And if you're lucky those treks will end at one of the waterfalls, which this mountainous country has aplenty. There's Tad Sae, an elegant series of cascades slipping down a series of steps like a Japanese temple garden. But do yourself a favour and wait till the last day for Tad Khouang Si. Here, 29km south of town, is quite simply the archetypal tropical waterfall, a stunning 200-foot, multi-level cascade.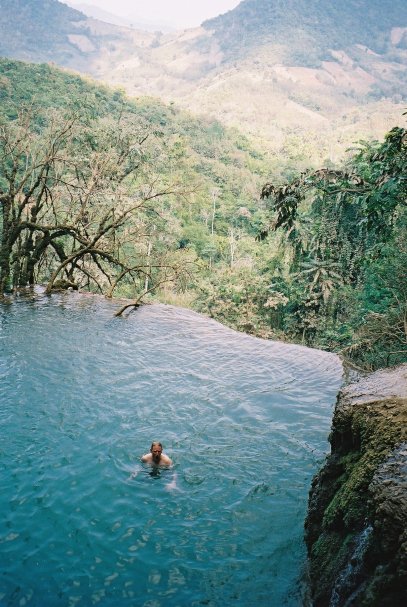 You can swim in the pools at the bottom but if you have a good guide like Douk he'll take you along the hair-raising path to the secret pool near the top, where swimming in the turquoise, foaming waters is like bathing in God's Jacuzzi.
Lung Prabang may be remote but you don't have to rough it. There are $5-a-night flophouses, sure, but $15 will get you a squeaky-clean guesthouse room and $50-60 will get you a bed at the town's top hotels, the luxurious Villa Santi or (the one we chose) the elegant converted colonial villa - below - that is the Sala Luang Prabang (former guest: Mick Jagger).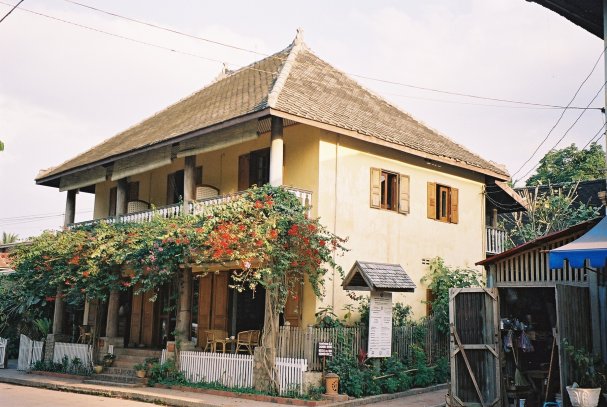 The food's excellent too. Luang Prabang cookery is mild by Asian standards and uniquely flavoured by the herbs grown in those moist river valleys – fenugreek, mint, coriander and a kind of local watercress. If you're longing for western stodge, however, there are also plenty of pizzerias and there's even a couple of excellent Indian places along Thanon Falang, White Man's Way, the main tourist drag, which also turns at night into a long street market selling glowing textiles, carvings, and Luang Prabang's stunning local silver jewellery.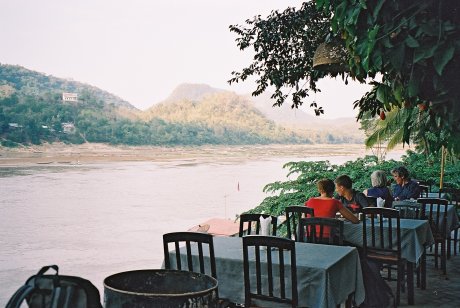 So if your previous experience of South-East Asia has been raving with E-heads or fending off ladyboys, I'd recommend a week's elegant tranquillity in one of the world's most stunning locations.
How to get there:
If you insist on doing it the lazy way, Lao Aviation fly four times a day from Vientiane to Luang Prabang. Vientiane is served by daily flights from Bangkok via Thai Air and Lao Aviation, and Bangkok Air fly direct to Luang Prabang from Bangkok on Wednesday and Saturday.
To catch a bus, get your taxi driver to take you to the new Northern Bus Terminal at Vientiane – and get there by 6am!